I'm not sure how many of us actually send thanksgiving cards. But I really enjoy the earthy colors of thanksgiving and I just know a card made with such colors would brighten up anyone's space, so lets make a thanksgiving card and promise to mail it to a friend this year!!
Here it is - simple yet elegant!!
Instructions:
1. Cut an a piece of cardstock so it measures 10 1/4 X 6 inches.
2. Score one side 2 7/8
3. Score the other side 3 1/2
It should look like this (with the shortest side being the front page.
4. cut two pieces of patterned paper: one that measures 3 1/4 x 5 3/4 and one that measures 2 1/2 X 5 3/4.
5. Attach lettering down the sides of the patterned paper and attach ribbon. I used Basic Grey letters, worked perfect.
6. Attach the patterned paper to the card stock.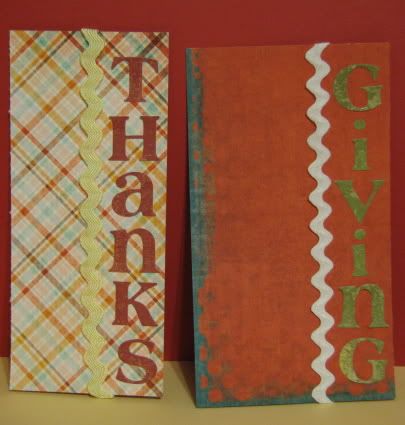 7. Embellish, ink edges and wrap with one larger piece of ribbon.