Like most of us, sending a sympathy card is not something we want to do. And every time I send a simple sympathy card, it just never seems like enough. So I like to send a pouch card that holds a coffee card and a note that says something like "lets go for coffee and talk".
Here is my example: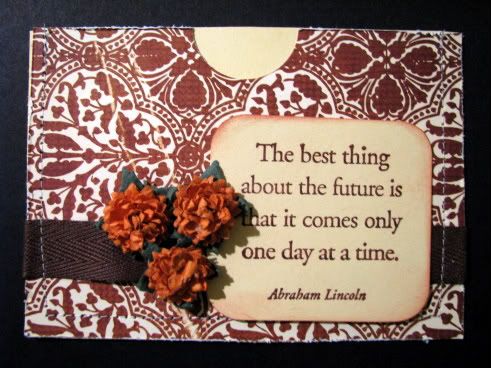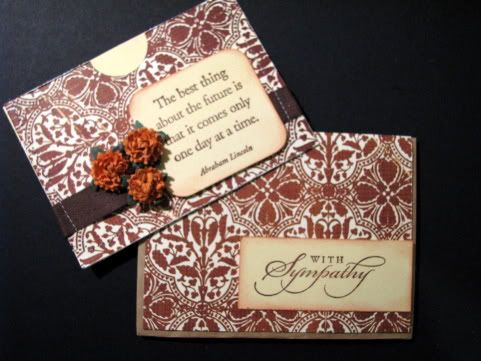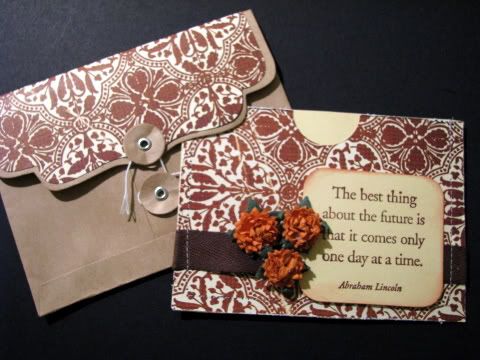 Some tips when creating a Sympathy Card:
- keep your colors muted
- Keep your sentiments simple
- Use images that are generic (birds, flowers, simple graphics)
- Less is more with sympathy cards
Instructions for Pouch:
1. Cut cardstock and patterned paper so each piece measures
5 1/4" X 3 3/4".
2. Using a circle punch, punch a half circle in the patterend paper on one 5 1/4 side.
3. Choose your ribbon and lightly tack down the ribbon in the desired postion on the patterned paper, making sure to tuck the ends of the ribbon on the wrong side of the patterned paper.
3. Sew or use double sided tape to secure three sides of your pouch. (but not the edge with the punched edge)
4. Add a sentiment.
Instructions for Envelope:
1. Using an 81/2 X 11 inch paper, score one long edge 4 inches into the paper, score the other long edge 1/2 inch.
2. Score one short edge 2 3/4 from the edge of the paper and score the other score the other edge 2 3/4 from the edge of the paper.
3. Cut away the paper so your envelope looks like this. Keep these cut away pieces.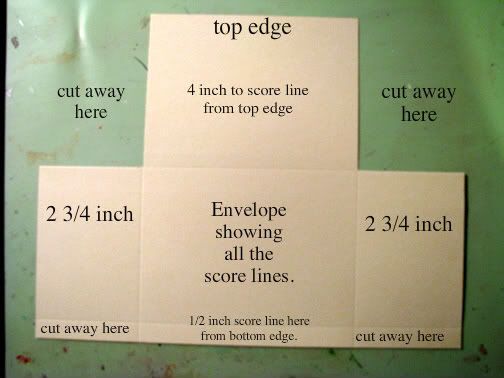 4. Cut 1 inch off the top edge. Then cut a scalloped edge, use whatever decorative punch you desire.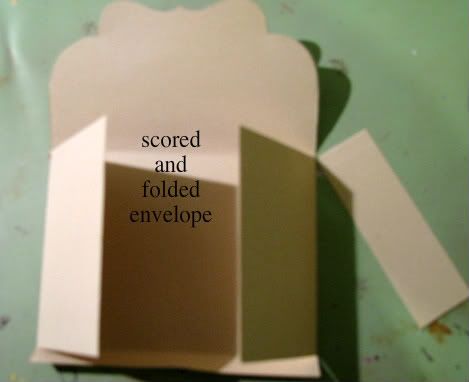 scored and folded envelope
5. Glue a waste strip of cardstock that measures 1 1/2 X 4" to the center of your envelope, securing the middle flaps. And
punch holes 1 inch from the bottom and 1 inch from the top edges of your envelope.
6. Make two small circles out of scrap paper and punch holes in the centers of them.
7. Place eyelets or brads to your punched circles and add to your envelopes.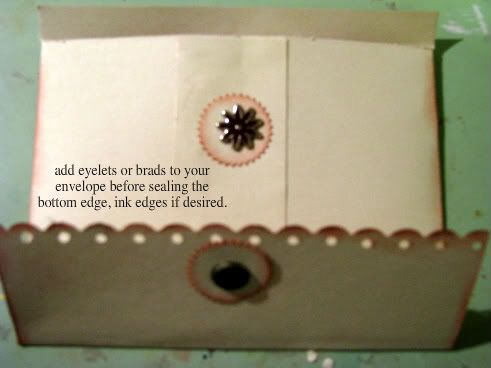 add eyelets
8. Glue down bottom 1/2 inch edge and add a string to tie.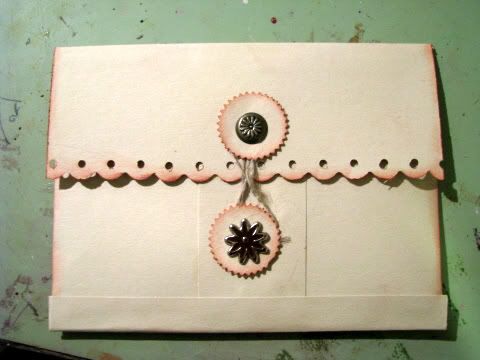 finished envelope