We've decided to post a card tutorial early for all you who are ready to get started.
This card is for all of you who are on a budget and really need to use up some scraps. A fun and quick card to make. But the best part about this card is you won't feel badly when the receiver throws it in the garbage after the holidays. LOL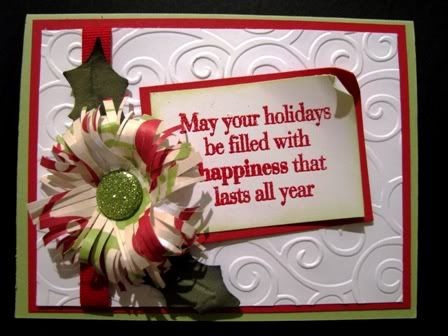 Supplies:
one brad, ribbon, card stock, holiday stamp, embossing powder, holly leaves, scissors and adhesive.
NOTE: colors of cardstock will change according to "your desired" patterned paper flower.
Instructions:
1. Cut white cardstock 3 3/4" X 5".
2. Emboss white cardstock with your favorite embossing folder.
3. Add ribbon to the left hand side of the white cardstock.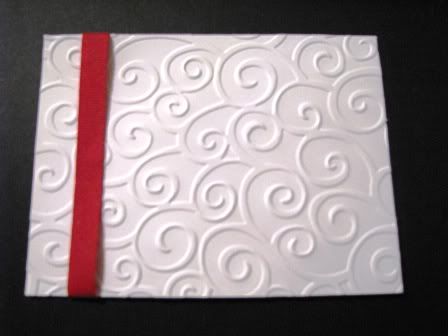 4. Cut Red cardstock 4 X 5 1/4".
5. Mount the white cardstock to the red cardstock.
6. Cut a standard size card and mount the red/white cardstock to your card. Set aside.
7. Emboss your favorite holiday greeting to a white piece of paper. (sized according to your stamp). and mount on a red piece of cardstock thats 1/4' larger than the white embossed piece, curl the edges in the top right hand corner. Ink edges if desired.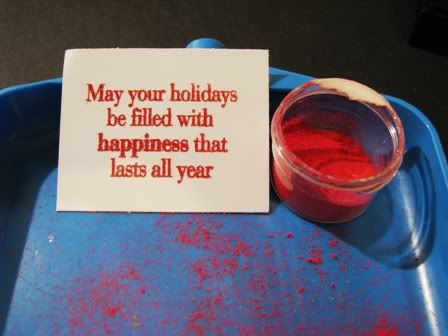 8. Cut 6 strips of patterned holiday paper 3/4"X 3'. Cut the ends only of each piece, leaving a center to punch a hole. They should look like this.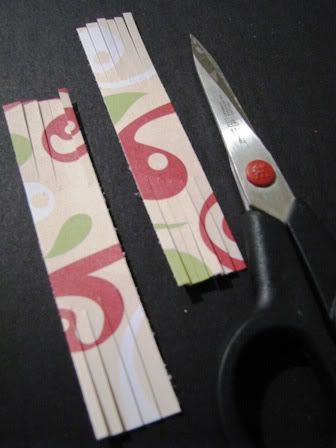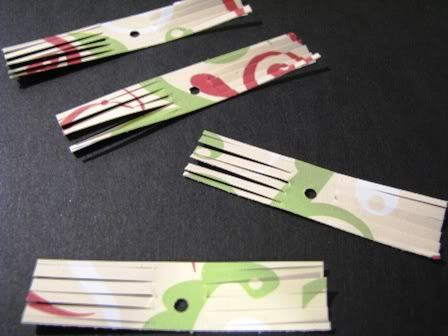 9. Curl the edges of each flower piece by using a pencil. You could ink or emboss or glue on glitter before you curl for added appeal.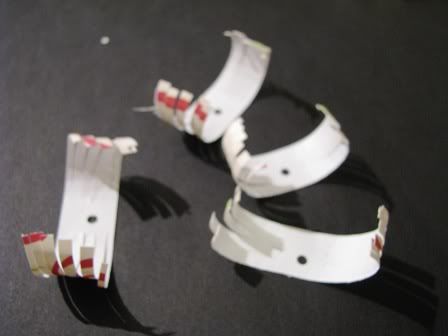 10. Attach these pieces with a brad and attach the flower to your card in the right hand corner and fluff up the petals of the flower. Add your leaves. Trim if necessary.
11. Attach your embossed greeting slightly on an angle behind your flower.